LIGHTING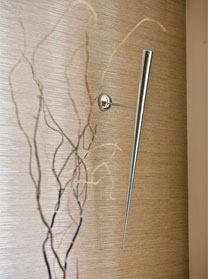 Lighting is so often an afterthought, but if planned early, it can add atmosphere and drama into the design. Onyx can advise about all types of lighting from standard light fixtures and lamps, all the way through to sophisticated zoned lighting systems that provide a multi-layered effect incorporating task lighting, accent lighting and general illumination.
"Is like a painting- it can change the whole feel of space"
Jake Dyson
"Design is defined by light and shade and appropriate lighting is enormously important"
Albert Hadley
Photo:
A stunning Italian wall light that meets the design objectives of making a contemporary statement in a spacious lounge as well as providing subtle mood lighting.